What is happening? What can happen? What should be happening?
by Brian Turner
Sometimes things happen that could change the way our city feels -- that could change the very nature of Victoria. Recently our city council was approached by folk music enthusiasts who wanted to hold a major folk music concert in Beacon Hill Park. These people were local people, with a very genuine love of their favourite music, not "entrepreneurs" after a few quick bucks.
For it to happen, they had to deal with other local people, with an equal love of the natural features of our public parks, with the city council and also with the Supreme Court of British Columbia. The Friends of Beacon Hill Park regard the "folk concert proposal" as a very genuine threat to the plant life and ambiance of their favourite park. The city council appeared to be in favour of the concert. Councillor Friedland, however, thought it should face a decision of the Supreme Court, as previous ideas on the use of the park -- going back to Judge Matthew Baillie Begbie (...the "hanging judge" of gold rush fame) -- appeared to favour strong restrictions on the commercial use of our public parks. The Court decided against the use of the park for commercial purposes. City Council has requested an appeal be filed. Neither the grounds for the appeal nor its date have, so far, been given.
Why should all of this be of concern to people in the Jubilee Community? This issue is typical of many issues faced by those we elect -- where good people hold conflicting ideas. Some of these people are reading this newsletter. Each of us, as citizens, have the choice of ignoring important issues or contacting our elected representatives to let them know what we want. This is an important way for each of us to help build the kind of city we want.
---
Neighbourhood Emergency Program
by Roger Smeeth, Acting President, SJNA
As much as I question expecting the worst to happen, rather than the best, I do not question the wisdom in being prepared for the worst, as long as one doesn't become overwhelmed by the expectation.
With that in mind, I'd like you to know what the City of Victoria has to offer its citizens.
The Victoria Neighbourhood Emergency Program has a very simple mission: to provide emergency preparedness information, training and support to our neighbourhoods. Experience from previous disasters clearly illustrate that one's best source of immediate assistance will come from a neighbour or volunteer. If individuals and families are prepared and trained beforehand, the assistance provided can save lives, reduce injuries and lessen the amount of property damage our neighbourhood may sustain.
Training sessions for the Jubilee Neighbourhoods will take place at Begbie Hall, from 7-9 PM, beginning on Mon. Jan, 18, 1999. There are a total of 10 2 hour sessions scheduled between January and June. Topics covered are First Aid (sessions 1-6), Personal Preparedness, Basic Search and Rescue, Damage Assessment, and Fire Extinguisher Training. All training will be provided at NO COST -- please wear comfortable clothing.
If you are interested in any or all of these sessions, I encourage you to pre-register by contacting the Victoria Emergency Program at 920-3373.
---
Neighbourhood Computer Access
by Tory Stevens, Sundance liaison
A computer lab has been created at Sundance School with the cooperation of the Greater Victoria School District, the City of Victoria and the South Jubilee Neighbourhood Association. As a result of the neighbourhood association's assistance, we now have the potential to make use of the computers.
Does anyone want to learn how to use the internet? Would you like access to the computers for word processing or internet surfing?
We have a neighbourhood account already set up for accessing the web. In fact, we have a South Jubilee Neighbourhood Association home page, http://www.s-jubilee.city.victoria.bc.ca/, where you can find a map of the neighbourhood, a copy of our mission statement, the most recent newsletter and newsletters past and much more.
Please contact your block rep (see list in this newsletter) if you have an interest in either learning about or using the computer lab at Sundance School.
---
Block Rep Bio: Tory Stevens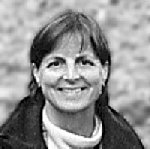 Tory is the Fell St. block rep. She has lived in the neighbourhood for 9 years and plans to stay on Fell Street indefinitely. She and her family moved to the neighbourhood to be near Sundance School which has been attended by all three of her daughters. Tory is a consultant in wildlife biology when she is not digging in her garden, helping Sundance with their Garry Oak Meadow restoration, being Mom, playing string quartets or walking in local wild areas with her husband, Alan Drengson, and their dog, Hazel.
---
Current Block Representatives So that we can bring our Neighbourhood Association closer to our residents, a group of individuals have agreed to represent the particular block they live on and put a more personal face on the Association for their neighbours. In the event of an emergency such as the snowstorm of '96, or at any other time, residents will have someone on their block to contact for information or help. So far we have Reps for every block except the north half of Amphion.
South Jubilee Block Representatives
(listed as north or south of Leighton Rd.)
Bank-North
Roger Smeeth
1818 Leighton Rd.
595-3914
Bank-South
Devon St. Dennis
1544 Bank St.
598-6119
Duchess-North
Ruth Turner
1728 Duchess
592-6735
Fell-South
Tory Stevens
1525 Fell
598-7004
Davie-North
Liz Hoar
1752 Davie
595-2685
Davie-South
Michael Best
1520 Davie
598-9575
Lee-North
Pat Jones
1703 Lee
595-3972
Redfern-South
Dorrie Murphy
1615 Redfern
598-0916
Amphion-North
??Volunteers??
Amphion-South
June Cliffe
1514 Amphion
595-1010
Foul Bay-North/South
Martin Monkman
1520 Foul Bay
370-1413
We still need a block rep for Amphion between Leighton and Bouchier. If you'd like to get more involved in the neighbourhood, call Roger at 595-3914