PARKING PERMIT SYSTEM COMING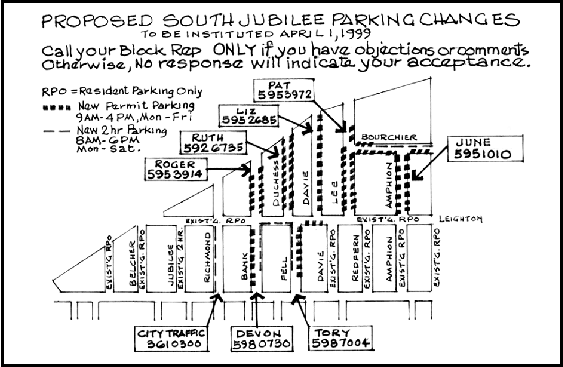 In order to protect the neighbourhood from non-resident parking during the Jubilee Hospital construction process, which will continue until 2002, the City is proposing new parking restrictions on certain North and South Jubilee streets, beginning April 1, 1999. In most cases the restriction will take the form of Residential Permit Parking Only, between 9a.m. & 4p.m. , Mon - Fri. Up to a maximum of two permits will be available to each residence to be used by residents or guests. We have been assured that commissionaires will actively patrol our streets to issue $30 tickets when required. We have also been assured by the City that the proposal is very flexible and open to feedback from the neighbourhood. Also, after hospital construction starts, they can work with us to make changes in a fairly expedient time period, if required.
An application form for permits is included with the City information package.
The Reps for the Blocks concerned have considered this proposal and feel that, given the options, it seems like the best way to protect us from inappropriate traffic intrusion. If you have any problems, call the numbers listed around the drawing by Monday, March 8th.
---
HYDRO SITE SAVED
by Roger Smeeth--reprinted from Monday Magazine
In the Jubilee Hospital temporary parking debate, we have witnessed Community Process at work - and successfully. I believe this success must be acknowledged by all of us. The fact that it took more time than was needed is beside the point.
The Hydro site has been saved from being turned into a parking lot for hospital staff. As is so often the case in our world, the Community rose, with almost one voice, to object strongly to a completely inappropriate proposal. As a result, the Cancer Treatment Centre development team sharpened their pencils and were able to porpose a generally acceptable alternative. In fact, at the January 27th Planning Session, in spite of certain reservations about implementation, this alternative combination of strategies was almost unanimously accepted by the large community representation.
One has to wonder how much angst, concern and energy could have been saved if the Community had been meaningfully involved at the very start of the temporary parking investigation process - and BCBC could have had more time to refine the details. It is hoped that this lesson will be learned by all future proponents of development in our region.
---
Neighbourhood Millenium Projects
It is time, once again, to make applications for Matching Grant Projects. Gail Price-Douglas of the City Community Development Division requests that, this year, these grants should be for Millenium Projects that provide some kind of legacy for the neighbourhood - murals, art projects, gardens and parks projects, tree planting, etc. What would you like to see in our neighbourhood? Call Roger at 595-3914 to throw around ideas.
In addition, the City is developing a new set of grants for Neighbour Celebrations. The grants must have a major visual and performing arts component. Any ideas?
---
The Street Volunteers
'The Street Volunteers' is a new program being launched by United Way, as a way for neighbours to meet together on the streets and in the apartments where they live. It is both a celebration of neighbourhood and a practical way to address issues that may be of shared interest or concern.
On Thursday Feb 25th, 60 future Street Volunteers met in Fairfield to learn about the new program, and to sign up for the training, which will start with a one-day session on March 20th, and a 4-week Study Group. Fifty years ago, we would never have needed anything like this - we all knew each other, and supported each other in times of difficulty. In this sense, the Street Volunteers is as old as apple pie - but today, we need to consciously revive those older traditions of caring, in order to put the community back into our neighbourhoods.
One of the neighbourhood concerns is the 'Y2K Computer Bug', which has the ability to knock out computer systems and machinery all over the world, if not addressed. Because of complexity of the world economy, there are concerns that here on Vancouver Island we may run into shortages of food and medicines, along with all sorts of other disruptions and delays. Among other things, the Street Volunteers are being trained to help people prepare for Y2K, in partnership with the existing Emergency Program and Neighbourhood Watch volunteers. The Street Volunteers is not an emergency program, however - we are a community development program, designed to encourage caring, sharing and co-operation among neighbours.
If you would like to find out more about becoming a Street Volunteer on your Street or Apartment, call me at 592-4473, and I'll be happy to fill you in.
Guy Dauncey - 2069 Kings Rd.
---