To Live and Let Live in Jubilee
It isn't hard to list reasons for being part of the Jubilee community. We are within walking distance of just about everything—including downtown for the energetic! Our quiet streets are lined with "character" houses, in many cases being tastefully upgraded—and, for many of us, living in Jubilee is an attractive, affordable choice.
Affordable housing has become a challenge because many people in Canada are becoming poorer. Real average family incomes (according to the Canier Institute of Family in Ottawa) have dropped by nearly 6% in the last 10 years. Young adults face a crisis. People in their 20s have only, on average, half as much real income than they did in the 1970s! Realizing that senior levels of government have become unwilling to levy enough taxes to finance affordable housing, a Housing Affordability Steering Committee for the Victoria urban area has been formed. People in our municipal governments, our Churches, the construction and mortgage industries and anti-poverty groups are involved. We are all being encouraged to offer ideas to: Wendy Zink, Manager of the city's Community Development Division (361-0290).
It could be helpful, as we look around our community and react to recent changes to keep the cost of housing in mind for those who are now looking for housing.
Keeping housing affordable in the Jubilee area does not mean turning it into a "slum" or helplessly watching the value of our houses fall. When we face changes, we will maintain our area's unique character most effectively by remembering what brought us here. These include a wonderful mix of buildings, relaxed neighbourhoods and housing that leaves us with enough money for the other things we enjoy.
- A neighbour
---
It would appear that there has been an increase, by a third, in the number of households bringing their rigid plastic to our regular Saturday collection since the very questionable CRD process was announced. (See the March issue of the newsletter for details.) This fact is very encouraging for those of us who wish to keep our waste being recycled on the Island. Also please remember that we are trying to cover our costs with your loonies.
Annual General Meeting
Sundance School, 2nd Floor
7:00 - 8:30 Tues June 13
Agenda
Annual Report
Treasurer's Report
Elections
Neighbourhood Issues
Discussion
An Annual General Meeting is mandated fo rus to comply with the requirements of our registration as a society. Beyond that, it is a good opportunity to get together to share our ideas of how to make our little nieghbourhood most satisfactory. The following persons have agreed to stand for election as Directors of our Association. Nominations for other directors may be made from the floor. Nominees: Micheal Best, Gerald Cavin, June Cliffe, Liz Hoar, John Meckbach, Martin Monkman, Dorrie Murphy, Roger Smeeth, Tory Stevens, Lucie Stuart, Ruth Turner, Erica Willems.
---
Neigbourhood Watch Program
Make the burglar's job harder. That was the message delivered by the Victoria Police Department in a Neighbourhood Watch meeting targeting the residents of the 1700 block of Davie Street and Lee on May 17th. That sounds obvious but we all are guilty at times, of taking the safety of our homes for granted.
The Neighbourhood Watch program provides good ideas for crime-proofing your house and making the neighbourhood a safer place. An added bonus of attending these sessions is a Neighbourhood Watch certificate which may qualify you for a 10% discount on your home insurance. You can also have a reserve constable come out and do a free security inspection of your home. It's a great program and the only cost is an hour of your time.
These presentations are offered several times a month at the North Community Police Station and are open to anyone. If you are interested in attending a Neighbourhood Watch Meeting or would like more information, contact Reserve Constable Brent Keleher at 995-7399 Mailbox #6475 or the North Community Police Station, 3045 Douglas at 370-1133.
---
Sundance Mural--Completed
On May 18, a whole bunch of people assembled with the Sundance students to witness the unveiling of the new Millenium Mural. It was designed by Marianne Corless, the winning student at the Victoria College of Art, and painted by the students and Marianne, under her direction.
This project started with our application to the City's Community Development Matching Grant Fund a year ago. Special thanks are due to Marianne for doing a wonderful job, to the City's Gail Price-Douglas, to Robin Mayor, Director of the College of Art, to Lynne Moorhouse, Sundance Principal, to Ann Eriksson of the parent group, to School Board 61 representatives, and lastly to the Sundance students who selected the design and helped paint it.
Does anybody out there have an idea for another project that would further add to the quality of South Jubilee?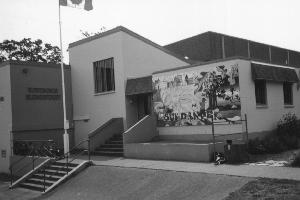 The Mural on the north side of Sundance School, please go have a look for yourself! (Click for a bigger version.)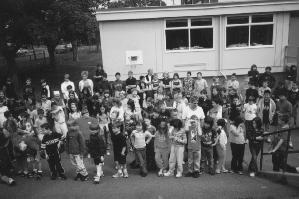 The Sundance School community watching the unveiling of the Mural. (Click for a bigger version.)
---
Explore Bowker Creek
Join local residents for a morning walk and exploration of Bowker Creek. We'll follow the creek through SE Saanich, Victoria and Oak Bay. Learn about the history, ecology and restoration potential of this exciting urban stream. Exchange ideas and discuss a vision for this community asset. Total trip length about 8km. Refreshments provided.
Meet Saturday, July 8, 2000 at 10:00AM outside the north-east entrance of Hillside Mall, adjacent to the Sears Auto Centre. Sponsored by the Camosun Community Association and the Friends of Bowker Creek. For more information contact 370-1271.
---
Everything You Wanted To Know About Basement Suites But Were Afraid To Ask
This information evening will feature four resource persons able to answer questions on landlord/tenant relations, tax implications, building inspections, upgrading costs and property assessments for basement suites. If you own or live in a house with a basement or secondary suite, or are considering adding a suite to your home, this meeting could provide you with valuable information. The meeting will take place June 7th from 7:00 - 9:00pm at Juan de Fuca Library Meeting Room, 1759 Island Highway in Colwood. For more information phone Capital Families Association at 478-1122.
---