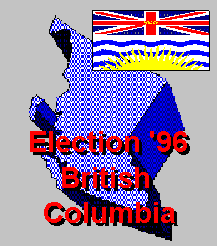 ---
The election has been called for May 28th.
Click here to find your riding.

Are You Registered to Vote?
---
BC Political Parties on the Web
Note: Not all parties listed below are running candidates in the 1996 BC provincial election. See the Candidates list for further information.
In alphabetical order:

Social Credit Party
Can't find your favourite party? Check the BC Party List compiled by Vic Yanda.
---

List of Candidates for the Provincial General Election 1996 (Official: Elections BC)

Members of the Legislative Assembly Biographies (Courtesy of the BC Legislative Assembly Home Page)
---
BC Government on the Internet
---
British Columbia Politics on the Internet
---
Please report problems or send suggestions to office@victoria.tc.ca

1996.05.27
Your Victoria Telecommunity Network Election '96 Web Page Team: Richard Baer, Ron Crabtree, Fritz Radandt, David Mattison, Gary Shearman. Graphics by David Mattison and IMSI Masterclips.