1997.05.30
---
The election has been called for Monday, June 2.
Elections Canada 1997 Election Information ~ Élections Canada 1997 élection information
AND
1st Source 1997 Preliminary Results from Elections Canada after the polls close in Saskatchewan at 10:30 p.m. Eastern Daylight Savings time, June 2
Ridings information (Elections Canada) ~ Circonscriptions information (Élections Canada)
Ridings information ~ Circonscriptions information (via 1997election.com and/et In Politics, Vancouver, BC)
The Chek 6 Site will have election info on June 2.
Information on Ridings and Candidates (via CBC Radio)
Esquimalt/Juan de Fuca Riding : Saanich/Gulf Islands Riding : Victoria Riding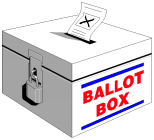 Are You Registered to Vote?
---
Registered Federal Political Parties
Registered Political Parties: Elections Canada ~ Partis politiques enregistrés: Élections Canada
In alphabetical order:

Bloc Québécois (Official Opposition)
Liberal Party of Canada ~ Le Parti libéral du Canada (Governing Party)
The above list is based on the Elections Canada list of registered political parties. If you're looking for an unregistered political party, try the Yahoo! Canada List of Federal Political Parties.
---
Find A Candidate for the Federal General Election 1997 (Official: Elections Canada).
Candidates by Ridings (via 1997election.com and/et In Politics, Vancouver, BC)
Party Standing ~ Position des partis, 35th Parliament ~ 35e Législature
---
Government of Canada ~ Gouvernement du Canada
---
British Columbia Politics on the Internet
Election Coverage by Selected Broadcast/Net Media
---
Please report problems or send suggestions to office@victoria.tc.ca

Your Victoria Telecommunity Network Election '97 Web Page Team: David Mattison (created Web page, 1997.04.26). Graphics by David Mattison and IMSI Masterclips. VTN addresses updated by David Mattison, 1998.05.18.