Stad Family Tree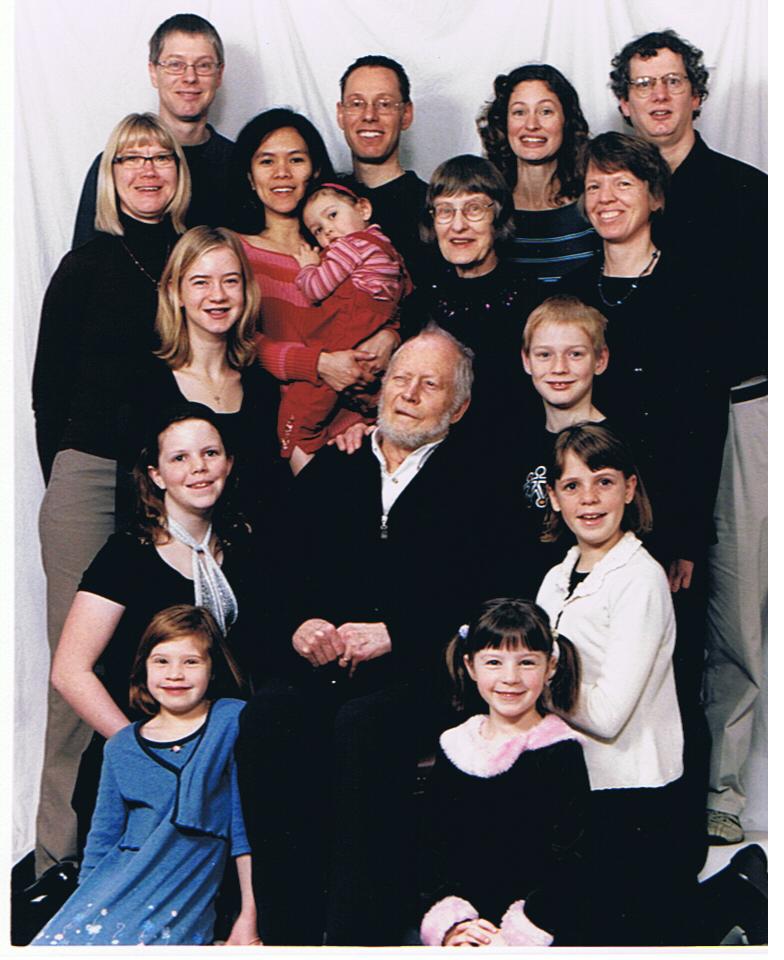 This picture was taken in December 2008. From the top left a re:
(My Siblings) John, Randy, Diny, and Albert (me)
Loretta (John's wife), Cristina (Randy's wife), Alison, Nellie (mom), Ann (my wife)
Nicole (John & Loretta's), Bill (dad), Evan (John & Loretta's)
(and my four girls:)AnnaLise, Maria
Sarah and Melanie
---
Listed below are the generations of my family tree. For the full genealogy, see the Online Genealogy. There you can search for Persons or Surnames.
This genealogy can also be found on stad.myheritage.com and Family Tree Maker
Another useful site with my genealogy and historical photos is WeRelate.org.See Links to more of my resources at that site too.
AnnaLise Hietkamp


Albert Stadt

Willem Lieuwe Stad(t)


Married:

Nellie Dieuwke Zijp


Jan Stad(t)
born: Jan 14 1896
Lutten, Overijssel, The Netherlands
died: c.Dec 5 1984
Victoria, BC, Canada


married:May 20 1930
Hardenberg, Overijssel, The Netherlands

Antje Helena Boonstra
born:Feb 8 1902
Amsterdam, The Netherlands
died: March 2 1984
Victoria, BC, Canada


Willem Stad
born: June 14 1854
Nyeveen, Drenthe, The Netherlands
died: Feb 6 1937
Lutten, Overijssel, The Netherlands


married:

Luchiena Van Goor
born:July 28 1858
Sneek, Friesland, The Netherlands
died:Sept. 30 1929



Thys Jan Stad
born: July 4 1809
Nyeveen, Drenthe, The Netherlands
died: Nov 20 1896


married:April 24 1809

Grietje Alberts Van Basten
born:April 4 1812
Wanneperveen, Overijssel, The Netherlands
died:Feb. 8 1894


Jan Thijs Stad
born: Abt Mar 1769
Rouveen, Overijssel, The Netherlands
died: 5 Jul 1846


married:4 Nov 1792

Roelofje Hendriks
born:Abt Oct 1765
Havelte, Drenthe


Thijs Peters
born: Abt Aug 1735
Nieuwleusen, Overijssel


married: 8 May 1763

Hendrikje Jans


Peter Jans
born:Abt 1690
died:Abt 1748


married:

Willempje Claas
died:Abt 1748
---
Notes:

I have many more names and much more information available. This is just the direct listing of ancestors. For example, I have extensive information on the "Zijp" family (My Mother's clan).

I have data on earlier generations than what is shown here.

My Grandfather was born "Jan Stad". When he applied for Canadian citizenship, he changed the spelling to "Stadt". Because the spelling changed in their lifetimes, I've listed the lastnames of Jan (my grandfather) and Willem (my father) as "Stad(t)". It was my grandfather's understanding that the name had been spelled "Stadt" in earlier generations, but so far, my research hasn't born this out. In any case, the most direct links to my family tree will be from the "Stad" family.

If any of the above names are included in your genealogy, please contact me!
I would love to exchange data with you!



---

Albert's Main Page

---

Albert's email: astadt@victoria.tc.ca
Free Hit Counter