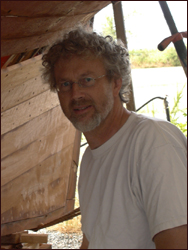 Offering a full service boat shop with covered space to 50', specializing in high quality wooden boat restorations.

This site is designed primarily as a portfolio , for prospective customers and provides snapshots of various projects I have worked on . The work included here covers a large area. From an 180' barquentine to a 9' yacht tender. Included are my enthusiasms and any interesting or relevant facts about each boat. I have broad interests in the boating world as you can see. My goals have been to provide the best possible service and craftsmanship that I can within a budget. Skills and abilities obviously grow with experience and after 25 years I feel confident in taking on any new construction or restoration of wooden boats up to 50'.

My speciality is restoring classics built from the 1930's to the 60's. These boats are the last of the traditionally built wooden boats and represent the craft at its pinnacle, truly beautiful boats built with care and great engineering sophistication. I have been lucky to work on boats by some of the great designers such as , Fife , Alden , Rhodes , Herreshoff , Monk and Garden.
I work on Salt Spring Island situated in the heart of the British Columbia's Gulf Islands. The area is the centre of a beautiful Canadian cruising grounds and home to over 3000 boats. As a result, the area boasts a superb (world class) marine industry. We have excellent fabricators, sailmakers, boat movers, surveyors, chandlers, etc. The Gulf Islands are also a stones throw from the American border and with the low Canadian dollar we offer extremely good value to American customers.